AUTOMOTIVE ISOLATOR
TRANSFER Molding & RUBBER TO METAL BONDING
Automotive Isolator
---
Industry: Automotive Products
Application: Automotive Isolator
Process: Transfer Molding & Rubber to Metal Bonding
Material: Natural Rubber Features metal stamping encapsulated in the part
A fine example of our transfer molding process, this custom panel grommet was designed to speed up productivity for the customer.
Custom Compression Molding for the Automotive Industry
---
Qualiform Rubber Molder has the experience to compound special compounds to satisfy all customer needs. For this bumper for an automotive truck application, a very hard compound was used to satisfy the customer's desire to meet a certain deflection rate.
Qualiform has extensive experience with compression molding. We worked with the customer to create a create a special compound for this compression molding project that would give a long-lasting durability that could cycle for durability.
Qualiform Custom Rubber Molding creates quality custom rubber compression molding, custom transfer molding, custom injection rubber molding and rubber to metal bonding with the highest standards in customer service.
Our Specialties
---
Compression molding,compression molded rubber,automotive compression molding,automotive rubber products,automotive rubber molding,rubber compression molding,custom compression mold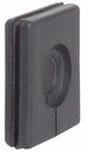 Our technical staff is ready to assist you with all your custom rubber molding needs.