DOCK BUMPER | COMPRESSION Molding
Dock Bumper
---
Industry: Automotive Rubber Products
Application: Dock Bumper
Process: Compression Molding
Material: SBR Natural Rubber Features large transfer molding capability
This dock bumper was designed specifically for the automotive industry. Designed to withstand constant large trucks back up into it, this dock bumper meets specific standards as requested by our customer.
Custom Compression Molding for the Automotive Industry
---
Featuring our capability for very large compression molding, Qualiform worked with the customers to design these dock bumpers to be applied to loading/unloading truck docks. They are designed to absorb the bump of a truck backing into the dock. We formulated a special compound to withstand the constant abuse. This dock bumper required a certain durometer as requested by the customer.
Qualiform has the proper compression molding machines to make large products such as these. Our experienced staff is very familiar with designing and custom creating large custom compression molded products.
Qualiform Custom Rubber Molder creates quality custom rubber compression molding, custom transfer molding, custom rubber injection molding and rubber to metal bonding with the highest standards in customer service.
Our Specialties
---
Compression molding, compression molding rubber, automotive compression molding, automotive rubber products, automotive rubber molding, rubber compression molding, custom compression mold.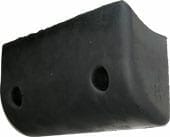 Our technical staff is ready to assist you with all your custom rubber molding needs.