CUSTOM HOSPITAL BED TIRES | COMPRESSION Molding
Custom Hospital Bed Tires
---
Industry: Medical Rubber Products
Application: Tires for a Hospital Bed
Process: Compression Molding
Material: SBR and Natural Rubber Features non-marking rubber compound with conductive and non-conductive properties
Designed specifically for the medical industry, these compression molded hospital bed tires meet specific requirements for roll-ability and conductivity specifically for the medical industry.
Custom Compression Molding for the Medical Industry
---
Using compression mold rubber, Qualiform worked with the customer to custom designed hospital bed tires to meet specific medical industry standards. For these custom rubber products, we designed a special formula for a specific hardness to ensure proper roll-ability.
The formulation was also designed to be non-staining since floor appearance is critical in the hospital application. Due to being used in the medical industry, we molded these hospital bed tires to have certain nonconductive properties.
Qualiform Custom Rubber Molder creates quality custom rubber compression molding, custom transfer molding, custom rubber injection molding and rubber to metal bonding with the highest standards in customer service.
Our Specialties
---
Compression molding, compression molding rubber, medical compression molding, automotive rubber products, medical rubber molding, rubber compression molding, custom compression mold, compression mold rubber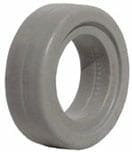 Our technical staff is ready to assist you with all your custom rubber molding needs.