The Custom
Rubber Molding

Experts
Chemical Designation: Polysiloxane
Molded rubber is often used in many automotive, appliance, electronic, and aerospace applications where resistance to temperature extremes are necessary.
Rubber has a lower tensile strength than most other polymer/elastomers. Solvents, concentrated acids and oils tend to break it down. Use of Rubber where extreme temperature resistance is not essential is discouraged because of cost.
Materials
Our Molding Capabilities
Qualiform Custom Rubber Molding creates quality custom rubber compression molding, custom transfer molding, custom rubber injection molding and rubber to metal bonding with the highest standards in customer service.
Our Specialties
Rubber molding, compression molding, transfer molding, injection molding, rubber to metal bonding, rubber parts manufacturer, rubber products manufacturer, compression molded, transfer molded, injection molded.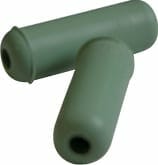 Our technical staff is ready to assist you with all your custom rubber molding needs.