The Custom TRANSPORTATION INDUSTRY RUBBER Molding Experts
Industry: Transportation Rubber Products
---
Qualiform Custom Rubber Molder is your source for custom rubber molding design and development of transportation industry products. Qualiform has superior experience working with transportation standards to ensure each custom rubber molded part exceeds specifications.
The transportation industry has high quality standards that most hold up to safety and reliability standards. Qualiform consistently delivers quality rubber parts that meet the demands of the transportation industry. Qualiform specializes in transportation compression molding, transportation transfer molding, transportation injection molding and transportation rubber to metal bonding.
Qualiform is superior at specialty rubber compounds that stand up to rigorous environments and constant abuse in the field. We strive to create quality transportation rubber parts that are easy to use and easy to install that will stand the test of time.
You will benefit from choosing Qualiform Custom Rubber Molding for the development and manufacturing of custom rubber transportation products in these ways:
Rubber Molding Expertise: Qualiform Custom Rubber Molding has been in the rubber molding industry since 1976.
Working with a Rubber Manufacturer that is Customer Driven: At Qualiform, we are customer oriented and we make sure our customers are satisfied in every step of the process.
Custom Rubber Design Assistance: Our custom rubber molding expertise will help make your next project a success. From design recommendations to custom compounds, our technical staff strives to satisfy your transportation rubber product needs every step of the way.
Custom Rubber Compounds: Each transportation rubber application requires a specific rubber compound. Qualiform Custom Rubber Molding will help you identify and develop the ideal rubber compound for the guaranteed success of your transportation rubber product.
Reliable rubber to metal Bonding: If your product requires metal-to-rubber bonding, Qualiform will develop customized rubber to metal bonded solutions to meet customer requirements. Our knowledgeable technical staff will help you find the right rubber to metal bonding agents for the performance requirements of the transportation application.
Qualiform Custom Rubber Molding creates quality custom rubber compression molding, custom transfer molding, custom rubber injection molding and rubber to metal bonding with the highest standards in customer service.
Our Specialties
---
Transportation compression molding, transportation transfer molding, transportation injection molding, transportation rubber to metal bonding, custom rubber parts manufacturer, rubber products manufacturer.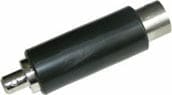 Our technical staff is ready to assist you with all your custom rubber molding needs.