THE CUSTOM rubber to metal Bonding EXPERTS

Rubber to Metal Bonding
---
The process used to bond rubber to metal depends upon the application, specifically the use of the finished product. Rubber metal bonding is an ideal process for bonding metal and plastic parts including: gears, shafts and rollers in a wide array of sizes and shapes. Additional uses for this process include rubber components bonded to steel, aluminum, brass and plastic.

Our knowledgeable technical staff can assist manufacturers with product development, design and select the right rubber to metal bonding agents for the performance requirements of the application. Our goal, with every project, is to produce uniform, high quality products as efficiently as possible. We develop customized rubber to metal bonded solutions to meet customer requirements.
Encapsulated Spring
---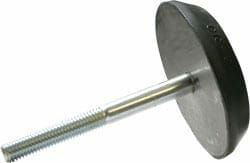 Rubber to metal compression molding.

Qualiform Custom Rubber Molding creates quality custom rubber compression molding, custom transfer molding, custom rubber injection molding and rubber to metal bonding with the highest standards in customer service.
Common Tags: rubber to metal bonding, custom rubber to metal bonding, rubber to metal bonding company, metal to rubber bonding, customized rubber to metal bonding.

Contact us
to discuss your project.
WHY CHOOSE QUALIFORM
FOR CUSTOM RUBBER MOLDING?
Qualiform Quality Assurance Program
---
As an ISO 9001:2008 certified company, Qualiform is committed to implementing an effective quality program that will oversee, evaluate and document every aspect of our processes so as to comply with customer requirements and assure satisfaction with every product and service we provide.
Competitive Prices
---
We're dedicated to providing competitive pricing without compromising quality.  To accomplish this goal, we analyze the entire project scope in order to determine the best option for each product. Whether through R&D, design, engineering, or manufacturing choices, we'll find the best solution at the best price.
Experienced Work Force
---
With 130 years of combined knowledge and experience in the rubber mold industry, the Qualiform leadership team offers a level of expertise unmatched by others.  Recognizing our employees are a valued asset, Qualiform invests continually in their education.  Our employees are why we high the highest level of expertise and performance in the industry.
Qualiform Custom Rubber Molder creates quality custom rubber compression molding, custom transfer molding, custom rubber injection molding and rubber to metal bonding with the highest standards in customer service.
Customer Service
---
For communication that is reliable, courteous, and timely, you can trust Qualiform's Customer Service Support.  The Customer Service Support team follows-up with every customer, informing them of each step of the process, with detail-oriented, customer-conscious information.
AMERICAN MADE PRODUCTS
FROM AN AMERICAN OWNED COMPANY
Questions?

(330)-336-6777
---
Our technical staff is available to answer any questions call (330) 336-6777, or submit a question/inquiry through our Contact Form or Send Us a PDF.

Qualiform Rubber Molding is a Full-Service Custom Rubber Molder.
Qualiform's  30+ years of experience has successfully found rubber molding solutions in the transportation, medical, electrical, plumbing, industrial, appliance, and aerospace industries.  Specifically, Qualiform, Inc. focuses on making custom molded rubber products. We offer transfer molding, compression molding, and rubber injection molding at our Ohio facility.  Proudly, we are nationally recognized, though we are privately owned.   We, most importantly, are committed to pursuing the best resources and technology to meet your unique rubber product needs at a competitive price.
Qualiform Rubber Molding News
A new Barwell Performer at Qualiform, Inc. allows us to hold tighter tolerances on weight and increased capacity/throughput.  We're pleased to announce this upgrade to better serve our customers!
Qualiform also installed a new lighting system. This change cut our energy cost on lighting by 50%.  
Qualiform's 24-hour, three-shift operation means we can respond quickly to our customer's production demands.
Finally, we're delighted to learn that companies who outsource their rubber molding operations chose Qualiform as their preferred supplier.  Using Qualiform results in reduced costs and streamlined processes. Additionally, zero interruption on productivity equals money saved.
Rubber Molding Applications
Industries We Serve
Rubber Molding Processes