THE CUSTOM rubber to metal Bonding EXPERTS

Rubber to Metal Bonding
---
The process used to bond rubber to metal depends upon the application, specifically the use of the finished product. Rubber metal bonding is an ideal process for bonding metal and plastic parts including: gears, shafts and rollers in a wide array of sizes and shapes. Additional uses for this process include rubber components bonded to steel, aluminum, brass and plastic.

Our knowledgeable technical staff can assist manufacturers with product development, design and select the right rubber to metal bonding agents for the performance requirements of the application. Our goal, with every project, is to produce uniform, high quality products as efficiently as possible. We develop customized rubber to metal bonded solutions to meet customer requirements.
Encapsulated Spring
---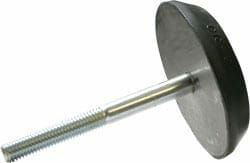 Rubber to metal compression molding.

Qualiform Custom Rubber Molding creates quality custom rubber compression molding, custom transfer molding, custom rubber injection molding and rubber to metal bonding with the highest standards in customer service.
Common Tags: rubber to metal bonding, custom rubber to metal bonding, rubber to metal bonding company, metal to rubber bonding, customized rubber to metal bonding.