Rubber to Metal Bonding
Rubber to Metal Bonding, Insert Molding and Over Molding
For rubber to metal bonding, both injection molding and transfer molding processes are used to bond rubber to metal.  The process depends upon the part application, specifically the use of the finished product. This an ideal process for bonding rubber to metal and plastic parts, an example of such parts would be gears, shafts, rollers, bumpers, and stops in a wide array of sizes and shapes. Additional uses for this process include rubber components bonded to steel, aluminum, brass and plastic.
Our knowledgeable technical staff can assist OEM design engineers with design consulting and selecting the correct rubber compounds.  Our team can provide recommendations based on the performance requirements and part application. Our goal, with every project, is to produce uniform, high-quality products as efficiently as possible. We develop customized rubber to metal bonded solutions to meet customer requirements.
Qualiform outperforms all other rubber to metal bonding companies producing the largest, most complex parts in the industry.  We offer unparalleled experience in this process and are more than happy to consult on your rubber to metal bonding application.
Questions on rubber to metal bonding? Contact our technical staff at (330) 336-6777 or CLICK HERE to send us a drawing.
The Rubber to Metal Bonding Process
Utilizing injection molding and transfer molding to encapsulate and bond rubber to metal is the most effective way to adhere rubber to metal or plastic parts.  The rubber to metal bonding process provides a superior mechanical bond of rubber to metal parts, inserts or plastic parts.
The process requires a two-step preparation of the metal or plastic part prior to molding the rubber.  First, the part must be degreased and cleaned of any contaminants, similar to preparation for industrial coatings or painting.  Next, a special, heat-activated adhesive is uniformly sprayed onto the metal parts.
Once the part is ready for rubber overmolding, the metal parts are inserted into the mold cavity.  If molding a specific area, the metal part is held in place by special magnets.  If the part is to be completely encapsulated with rubber, the part is held in place with chaplet pins. The mold is then closed and the rubber molding process begins.  As the elevated molding temperature cures the rubber, it also activates the adhesive forming a mechanical bonding of rubber to metal or bonding rubber to plastic. To learn more about the rubber to metal bonding processes, click on the following link: rubber injection molding process or transfer molding process.
When a metal or plastic part needs to be completely encapsulated with rubber, rubber insert molding, a variation of rubber to metal bonding, is used.  For complete encapsulation, the plastic or metal part is suspended inside the bold cavity. Rubber can also be molded to a specific area of metal parts.  Mechanically adhering rubber to metal can enhance the stability of metal parts with the flexible characteristics of rubber.  Metal parts with molded rubber can improve part properties such as creating environmental seals, meeting NEMA standards, electrical conductivity, noise and vibration isolation, wear and impact resistance, chemical and corrosion resistance and more.
Materials that can be insert molded, overmolded or rubber to metal bonding of a specific area include: steel, brass, aluminum, alloys, exotics, engineered resins and plastics.
Rubber to metal bonded parts range in size from small inserts to very large components serv.  Overmolded rubber metal parts are utilized across a broad range of applications.
Qualiform molds both natural rubber and synthetic rubber which include:
Butyl
Colored Compounds
EPDM
Natural Rubber
Neoprene
Nitrile
SBR
Viton™
Fiber Molding
Questions?
Our technical staff is available to answer any rubber to metal bonding questions. Call (330) 336-6777, or submit a question through our Contact Form or Send Us a PDF.
Qualiform Rubber Molding Company
Within the rubber molding industry, Qualiform is one of the top American companies. Our customer products are created using special compounds and unique designs. We tackle specific molding challenge using problem-solving abilities we've acquired through comprehensive experience in rubber molding and rubber-to-metal bonding.
Qualiform Rubber Molding is certified through ISO 9001:2015. We meet our customers' specific needs through attentive customer service and top quality customer rubber-molded products. If you're in need of any help with project development, contact us. We offer a variety of expert molding services including injection molding, compression molding, transfer molding, and rubber-to-metal bonding.
Qualiform's highly trained employees are here to aid you throughout your complete design and development process. We'll work hard to make sure that your needs and specification are met for each product. We will ensure that the materials and product quality are to your satisfaction at each individual step of your product's development. Contact a member of our technical staff at (330) 336-6777 or CLICK HERE to send us a drawing.
Qualiform Quality Assurance Program
Qualiform Rubber Molding is an ISO 9001:2015. At Qualiform we are committed to enacting the most effective quality assurance program. This selected program oversees, evaluates, and documents every part of our molding process. Thus, we are able to follow customer requirements and ensure customer satisfaction with all products and services that we offer.
Products We Manufacture:
Abrasion Resistant Parts
Colored Rubber Products
Complex Rubber Products
Custom Rubber Parts
Rubber Bumpers
Rubber Gaskets
Rubber Grips
Rubber Grommets
Rubber Seals
Rubber-to-Metal Bonded Products
Vibration Control Parts / Vibration Isolation Parts
Rubber Molding Processes We Offer:
Custom Rubber Molding
Cryogenic Deflashing
Engineering and Design Support
Rubber Compound Development
Rubber Compression Molding
Rubber Injection Molding
Rubber-to-Metal Bonding
Rubber Transfer Molding
Assembly Services
Stocking Programs
Competitive Prices
To maintain competitive pricing options, Qualiform examines all aspects of part production. Each product is evaluated to create the best-customized solutions and prices via R&D, design, manufacturing, or engineering.
Expert Work Force
Here at Qualiform Rubber Molding, we have over 30 years of expertise in rubber molding under our belt. Our top quality leadership team is equipped to provide unparalleled service. Each of our individual employees is a highly valuable asset to the company. We invest our employees their skills sets and expertise so that they, in turn, act as leaders to produce top quality products.  
Customer Service
Our excellent customer service provides dependable and considerate communication with customers. We make sure to follow-up with customers, explaining exact details of each step of the manufacturing process for a specific product.
How do I receive a quotation?
Please provide us with a sample or print of your part to be reviewed. To assist us in the tooling design, include the estimate of your annual usage requirements. Also include the type of material, unless it is unknown or unspecified. In that situation, please describe the environment in which the tooling will be utilized.
Can Qualiform assist with the design of my custom rubber part?
If you desire, Qualiform will be there to assist you in your design process from the initial phase to the final step of approving your part.
What if I don't know which polymer or durometer is best suited for my application?
Qualiform is capable of offering expert recommendations for polymers and an indication of your durometer requirements.
What is the lead-time when I place an order that requires a tool?
The average lead times vary by type of tooling. For prototype tools, the average lead-time is 2-4 weeks. For compression or transfer molding, the average lead-time is 6-8 weeks. For rubber injection molding tooling, the average lead-time is 8-10 weeks. However, if you need an expedited tooling lead time, we are able to work with our tooling shop to meet your time requirements.
Is my tooling produced in the United States?
We purchase all of our tooling within the United States. This allows us to respond quickly to customer changes and work with faster lead-times.
What is Qualiform's part lead-time?
A majority of our parts can be shipped out within 3-4 weeks from the receipt of the order, depending on the number of products.
Can Qualiform use existing tooling?
Tooling will fit into our presses in most cases. However, sometimes minor tooling modifications may be necessary.
Once I pay for the rubber molding tooling, who owns the tooling?
After we receive payment for the product, the tooling is the customer's property. Tooling is custom to each customer's specific design requests.
For rubber to metal bonding applications, can Qualiform source my metal components?
We work with a variety of supply chains to source required metal stamping or inserts.
Can Qualiform match my custom color requirements?
We work closely with our rubber supplies to obtain color matches that fit our customers' specific requests.
From Start to Finish
From initial design to final inspection, Qualiform will create your product design with excellent customer service. We manufacture quality rubber compression molding, custom transfer molding, rubber to metal bonding, and custom injection molding. Our well-rounded manufacturing abilities enable us to complete jobs that other manufacturers would fail at.
Since 1976, Qualiform has been building the experience and knowledge to master your custom rubber molding projects. We've built our respected reputation on dedication to customer service and superior product quality. We provide numerous services such as rubber compression molding, rubber injection molding, and rubber transfer molding, rubber to metal bonding, and color compounds. Our wide range of capabilities puts us in the position to provide any custom molded rubber product that you may need.
Our Specialties
Our services include custom rubber molding, custom rubber transfer molding, rubber parts manufacturer, custom rubber injection molding, custom rubber compression molding, rubber to metal bonding, and rubber products manufacturer.
Questions?
Our technical staff is available to answer any questions call (330) 336-6777, or submit a question through our Contact Form or Send Us a PDF.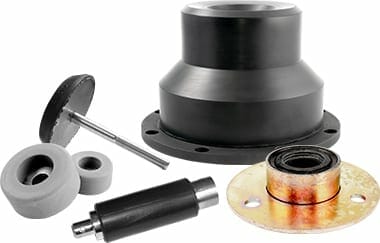 Our technical staff is ready to assist you with all your custom rubber to metal molding needs.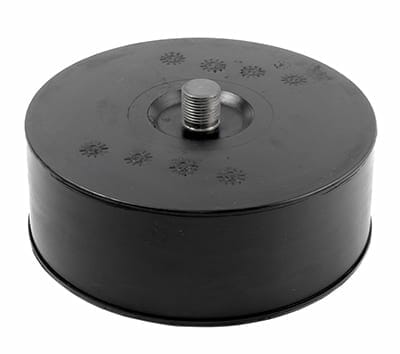 Rubber to metal bonding process used to create bumpers for trains.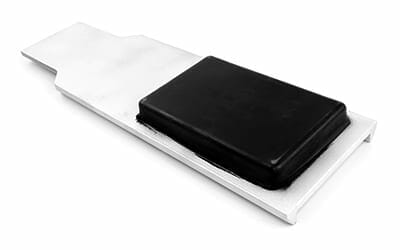 Vibration isolation pads used for application in tank trailers.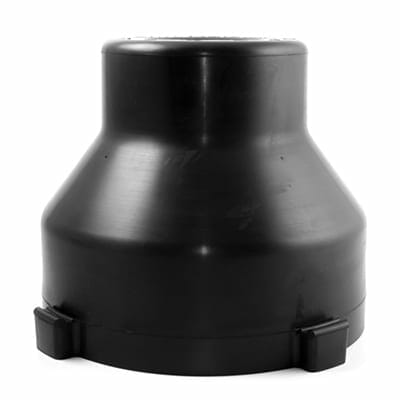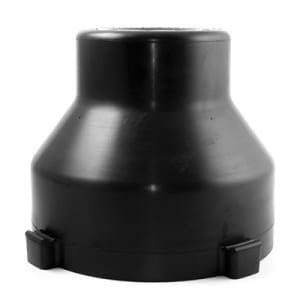 Seal specified for gas and oil drilling industries.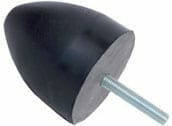 Rubber to metal bonded suspensions parts.