The Custom
RUBBER Molding

Experts

With over thirty years of experience, Qualiform Rubber Molding delivers fast, reliable manufacturing of high-quality rubber products at a competitive price.  Qualiform is the number one choice of OEMs across all industries including appliance, healthcare, electrical, industrial, medical, plumbing, sports, recreation, transportation, EMI shielding, sound management, vibration management, chemical, and aerospace industries.
The Top U.S. Rubber Molder & #1 Choice for  Custom Rubber Molding
Rely on the rubber molding experts at Qualiform to solve almost any design or material challenge involving rubber products. Qualiform molded rubber products are American-made and designed to your unique specifications. Customers choose us for responsiveness, reliability, competitive pricing, and fast turnaround.  Pricing is maintained through attentive monitoring of raw material costs and environmental initiatives with repurposed rubber saved from landfills. Furthermore, we offer 3-shift/24-hour production for the shortest runs and quickest turnaround.
Lastly, when you choose Qualiform, we will work with your tooling from other molders, or we can purchase new tooling for you. As a Qualiform customer, you always own the tooling. We work to keep you as a customer through unparalleled customer service.
The Rubber Molding Process
The rubber molding process involves heating, forming, and curing rubber compounds inside a mold under pressure.  The cavity of the mold is the shape of the finished part and based the flexibility of the required material, the product design may include complex shapes, compound curves and undercuts.
Rubber Materials & Compounds
A wide range of rubber compounds, additives and fibers can produce virtually and product characteristics from abrasion resistance, chemical resistance,  corrosion resistant, heat resistant, ozone resistant, and vibration isolation to impact absorption.  Rubber compounds can be modified to produce the exact material properties required including rigidity, durability, strength and flexibility.
Qualiform molds both natural rubber and synthetic rubber which include:
Butyl
Colored Compounds
EPDM
Natural Rubber
Neoprene
Nitrile
SBR
Silicone
Viton™
Fiber Molding
Types of Rubber Molding Processes
Rubber Injection Molding
Rubber injection molding is an ideal process to produce precision rubber molded components and rubber-to-metal bonded products.  This process is selected for rubber parts that require high volumes, tight tolerances, over-molding or precision applications. Rubber injection molding delivers speed and precision not found in other rubber manufacturing processes.  Furthermore, rubber injection molding is an optimal manufacturing process for products specified with rubber compounds that have quicker rubber cure times. Efficiency is gained by a higher level of automation, strict control over flash and reduced waste from scrap parts.
Rely on Qualiform's technical staff's experience with rubber injection molding to help our customers determine if injection molding is the correct process for their product application and material property requirements.
Rubber Injection Molding Process Description
The process of injection molding rubber starts with bulk mixing the rubber compounds, aka stock.  The stock is then stripped into continuous strips approximately 1.25″ wide & .375″. The strips of uncured rubber stock are then fed from a hopper into the rubber molding injection equipment via a conveyance channel.
A large auger type screw moves the stock into a barrel that holds a specific amount of rubber stock.  As it turns and moves through the channel into the injection unit, the material is heated.  As the rubber stock is heated, it plasticizes to a target temperature.  The plasticized rubber material is then injected into a heated mold cavity held under high-pressure.  A runner and gate system is used similarly to the plastic injection molding process.  The temperature and pressure activate the cure of the rubber compound, vulcanizing it.  Once the rubber reaches and required level of cure, it is allowed to cool and reach a solid state within the mold. The molds open and parts are removed or ejected ready for the next cycle.
Rubber injection molding began in the mid-1960s as a spin-off from the plastic injection molding process.  The difference in the processes is that rubber is cured under significantly more pressure per square inch of molds cavity surface.
Advantages of the Rubber Injection Molding
A highly efficient process
Can be fully automated with automatic material feeding
Provide high precision rubber molded products
Superior process for consistency and repeatability
Allows for molding of complex geometry
Ideal over-molding of inserts, overmolded components and rubber to metal bonding
Eliminate preforms and preform labor cost
Flashless molding / flashless tooling / eliminating secondary trimming
Rapid cavity filling
Reduced cycle time
Minimal material waste
Disadvantages of Rubber Injection Molding
Higher start-up/shutdown costs
Suited for high volume applications
Not all elastomers are suitable
Rubber to Metal Bonding
Utilizing the rubber molding process for rubber to metal bonding is the most effective way to adhere rubber to metal parts.  Qualiform is the leader of all rubber to metal bonding companies producing the largest, most complex parts in the industry.  We offer unparalleled experience in this process and are more than happy to consult on your rubber to metal bonding application.  Questions on rubber to metal bonding? Contact our technical staff at (330) 336-6777 or CLICK HERE to send us a drawing.
The Rubber to Metal Bonding Process
The rubber to metal bonding process provides a superior mechanical bond of rubber to metal parts or inserts.  Integral to the process is a two-step preparation of the metal for rubber molding.  First, the metal must be degreased, similar to metal coating or paint preparation, and cleaned of any contaminants.   Next, a special, heat-activated adhesive is uniformly sprayed onto the metal parts.
Ready for rubber overmolding, the prepared metal parts are inserted into the mold cavity.  Held in place by special magnets or chaplet pins, the mold is closed and the rubber molding process begins.  The heat required to cure the rubber, activates the adhesive forming a mechanical bonding of rubber to metal.
Rubber insert molding completely encapsulates the metal part with rubber by suspending the metal insert in the mold cavity.  Rubber can also be molded to a specific area of metal parts.   Mechanically adhering rubber to metal can enhance the stability of metal parts with the flexible characteristics of rubber.  Metal parts with molded rubber can improve part properties such as seals to NEMA standards, electrical conductivity, noise and vibration isolation, wear and impact resistance, chemical and corrosion resistance and more.
Steel, brass, aluminum, exotics, engineered resins and plastics can all be overmolded with rubber.
Rubber to metal bonded parts range in size from small inserts to large transportation components.  Overmolded rubber metal parts are utilized across a broad range of applications, shapes and sizes such as bumpers, shafts, rollers and isolaters.
Rubber Compression Molding
Rubber compression molding is ideal for low to medium volume production of rubber products.  The rubber compression molding process can produce a diverse range of precision rubber molded components.  The compression molding process allows for the affordable production of large, intricate products. It is often used to produce environmental seal products such as rubber o-rings, seals and gaskets.
The Rubber Compression Molding Process
The rubber compression molding process uses a preformed piece of uncured rubber that is placed in an open mold cavity.  The mold is preheated to an elevated temperature.  As the mold closes, the material is compressed and flows to fill the rubber mold cavity.  A combination of high-pressure and elevated temperatures activates the curing of the rubber compound, aka vulcanization.  The optimal level of cure is achieved, the part hardens and cools then the mold is opened and part removed.  The cycle repeats with the next rubber preform inserted into the rubber mold.
The Benefits of the Compression Molding Process
Economical process
Low-cost tooling compared to rubber injection molding
Maximized cavity count
Ideal for large parts that require a long cure time
Can process most elastomers and cure systems
Disadvantages of Compression Molding
Longer cycle times
Mid-range precision and consistency
Labor intensive
Applications of compression molding range from simple drive belts to complex large diameter diaphragms.
Rubber Transfer Molding
The transfer molding process can be used to produce both solid rubber parts and parts that require bonding rubber to a metal or non-metallic component. Examples of parts manufactured with transfer molding include vibration isolators and shock absorbers.
The Rubber Transfer Molding Process
Similar to compression molding, transfer molding requires raw material preparation into pellets and/or pre-forms.  Rather than placing the preform in the mold cavity, the preformed material is placed in a "pot" located between the top plate and a plunger.  In the pot, the material is compressed by the heated plunger and forced (transferred) through sprues into the cavity below.  The plunger is kept in place until the preform takes on the shape of the mold and the cure is reached, vulcanized.  The part is allowed to harden, cool, then is ejected. The cull pad, any cured rubber left in the pot, is removed, mold cavities are cleaned and the next molding cycle begins.
When used for rubber to metal bonding, the transfer molding process requires the components are loaded into a heated mold either by hand or using a loading fixture.  Material is loaded into the well pot of the transfer mold.  The mold closes and the heated rubber is then transferred through the runner and gate sprues into the mold cavities.  Under pressure and elevated temperatures, the rubber cures/vulcanizes and parts are removed.
The rubber transfer mold consists of a piston, well pot, sprue plate, cavity plate, and a base plate with a knock-out system used to eject the parts after molding.
The Benefits of the Transfer Molding Process
Economical process with high cavity count per mold per cycle
Cost effective tooling
Allows for rubber to metal bonding
Allows for rubber overmolding
Tighter dimensional tolerances than compression molding
Ideal for large parts that require a long cure time
Can process most elastomers and cure systems
Disadvantages of Rubber Transfer Molding
Longer cycle times
Mid-range precision and consistency
Labor intensive
Increased flash and waste
Transfer molding is an ideal process to not only produce precision molded rubber products, but also products that require rubber bonded to metal surfaces.
About Qualiform Rubber Molding
Qualiform is a leader among U.S. rubber molding companies. We are a top molder of custom products requiring special compounds or unique designs. Furthermore, we have immense experience in all aspects of rubber molding and rubber-to-metal bonding; thus, we offer incomparable ability in problem-solving, allowing us to work with products that present specific molding challenges.
Qualiform is certified to ISO 9001:2015. We work to produce the highest quality in custom rubber-molded products, while providing each customer with the necessary attention to ensure their needs are met. If you are in need of assistance with product development, do not hesitate to contact Qualiform Rubber Molding. We are experts in a variety of molding services including, injection molding, compression molding, transfer molding, and rubber-to-metal bonding.
Throughout the entire design and development process, our expert staff will be by your side to assist you. With over thirty years of experience, we can ensure each product meets your needs and specifications. Our staff will work with you at each step of your product's development, ensuring the materials and product quality are to your liking. Contact a member of our technical staff at (330) 336-6777 or CLICK HERE to send us a drawing.
Qualiform Quality Assurance Program 
Qualiform Rubber Molding is an ISO 9001:2015, and we are dedicated to employing the most effective quality assurance program. This program oversees, evaluates, and documents every aspect of our molding processes so we can continue to comply with customer requirements and ensure satisfaction with each product and service we offer.
Products We Manufacture
Abrasion Resistant Parts
Colored Rubber Products
Complex Rubber Products
Custom Rubber Parts
Rubber Bumpers
Rubber Gaskets
Rubber Grips
Rubber Grommets
Rubber Seals
Rubber-to-Metal Bonded Products
Vibration Control Parts / Vibration Isolation Parts
Rubber Molding Processes We Offer:
Custom Rubber Molding
Cryogenic Deflashing
Engineering and Design Support
Rubber Compound Development
Rubber Compression Molding
Rubber Injection Molding
Rubber-to-Metal Bonding
Rubber Transfer Molding
Assembly Services
Stocking Programs
Competitive Pricing
We are able to maintain competitive pricing through the evaluation of every aspect of part production. Qualiform evaluates the entire scope of each project to discern the best solutions and prices whether through R&D, design, engineering, or manufacturing.
Experienced Work Force
Our leadership team combines 130 years of experience in all areas of the rubber molding industry to offer the best service possible. Here at Qualiform, we consider each employee a valued asset; thus, we maintain dedication to investing in the skill sets and expertise of our employees, reinforcing high-quality products, performance, and leadership.
Customer Service
Our Customer Servicer Support provides Qualiform customers with courteous and reliable communication. We also include detail-oriented follow-ups with each customer, ensuring they are aware of the inner workings of each step of the process.
What's the process to get a quotation?
First, we ask that you provide a print or sample of your part for reviewing purposes. Also, please include your estimated annual usage requirements to assist us in tooling design. Lastly, please indicate the material. If the material is unknown or unspecified, describe the environment in which it will be utilized.
Can Qualiform assist with the design of my custom rubber part?
From the initial design phase to the final approval of your part, Qualiform can be by your side to assist you.
What if I don't know which polymer or durometer is best suited for my application?
Qualiform has 32+ years of experience in rubber molding, and we can assist you with expert recommendations for polymers and an indication of your durometer requirements.
What is the lead-time when I place an order that requires a tool?
Average lead-times are as follows:
Prototype Tools: 2-4 weeks
Compression or Transfer Tooling: 6-8 weeks
Rubber Injection Molding Tooling: 8-10 weeks
However, we understand some situations require improved tooling lead-time. In these situations, we work with our tooling shop to meet customer requirements.
Is my tooling manufactured in the United States?
All of our tooling is purchased in the United States, allowing for faster responses to customer changes and faster lead-times.
What is Qualiform's part lead-time?
Most parts can be shipped within 3-4 weeks from receipt of order, depending on your order quantity.
Can Qualiform use existing tooling?
Tooling will fit into our presses in most cases; however, there are some situations where minor tooling modification is required.
Once I pay for the rubber molding tooling, who owns the tooling?
All tooling is custom to each customer's design; thus, the tooling is the property of the customer after payment is received.
For rubber to metal bonding applications, can Qualiform source my metal components?
We work with a variety of supply chains in order to source required metal stamping or insert.
Can Qualiform match my custom color requirements?
Qualiform Rubber Molding works with rubber suppliers to provide color matches. We can match any customer-requested color.
Qualiform has the experience and the knowledge to complete your custom rubber molding project needs.   In business since 1976, Qualiform has built its enviable reputation on superior quality and a solid commitment to customer service.  Our offerings include rubber compression molding, rubber transfer molding, and rubber injection molding.  In addition, we have an extensive line of services, such as color compounds and rubber to metal bonding. Our range of capabilities means we are positioned to provide the custom molded rubber products you require.
From Design through Inspection
We see your design through from start to finish with outstanding customer service along the way.  Qualiform Custom Rubber Molding creates quality custom rubber compression molding, custom transfer molding, custom rubber injection molding, and rubber to metal bonding.  Because of all of our manufacturing capabilities, we are poised to complete jobs other manufacturers cannot.
Our Specialties
Custom rubber molding, custom rubber compression molding, custom rubber transfer molding, custom rubber injection molding, rubber to metal bonding, rubber parts manufacturer, rubber products manufacturer.
Questions?
Our technical staff is available to answer any questions call (330) 336-6777, or submit a question through our Contact Form or Send Us a PDF.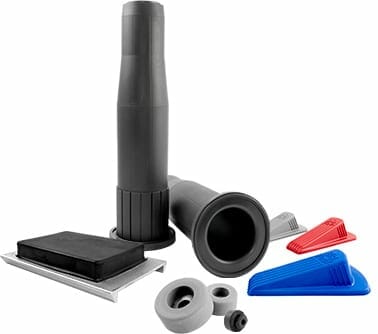 Our technical staff is ready to assist you with all your custom rubber molding needs.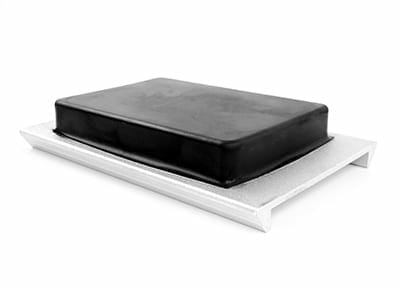 The #1 provider of rubber to metal bonding and rubber overmolding.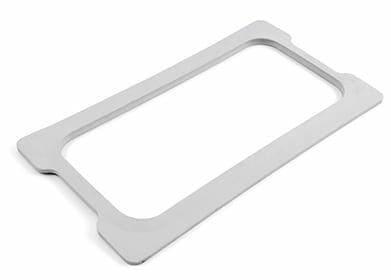 Custom rubber gaskets molded with the right materials and design for your sealing application.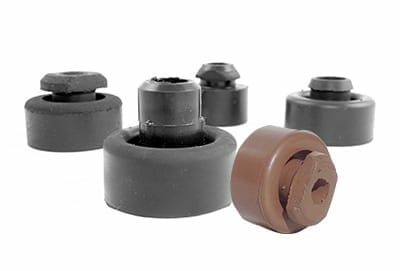 Custom rubber grommets molded to your specifications.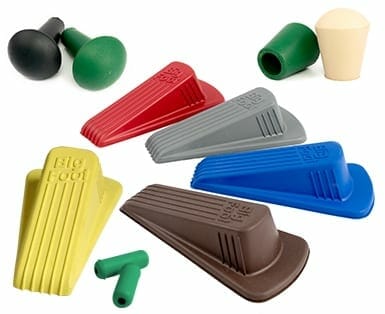 Colored rubber molding. High-quality molded rubber products in any color you need.