THE CUSTOM Rubber Injection Molding EXPERTS

Quality & Service
---
For the best quality and service, we match the manufacturing process to the project. For example, injection molding is an ideal process for forming high volume production, large quantities of small to medium size parts, complex inserts, close dimensional tolerances, insert molding, and components that require uniformity (like the grommets shown above).
Door Stop
---
We use rubber injection molding to manufacture our door stops.  During this process, we utilize color compounds, so we can mold them in multiple colors including green, yellow, beige, red, blue and brown.
This manufacturing process involves rapidly forcing an exact amount of rubber from a tube/cylinder into a closed, heated mold. This process provides economical advantages in doorstop production including:
Short molding cycle
Lower unit cost
High dimensional tolerances
Absence of flash
Little scrap/waste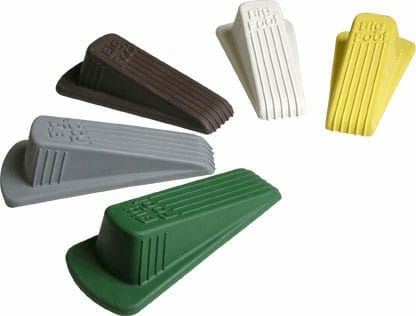 Contact us
to discuss your project.
WHY CHOOSE QUALIFORM
FOR CUSTOM RUBBER MOLDING?
Qualiform Quality Assurance Program
---
At Qualiform, we are committed to implementing an effective quality program that will oversee, evaluate, and document every aspect of our processes.  Not only do we want to comply with customer requirements, but we want to assure customer satisfaction with every product and service we provide as well.  We're proud to be an ISO 9001:2008 certified company.
Competitive Prices
---
In order to offer competitive pricing, our Qualiform technicians evaluate every aspect required to produce your part.  This analysis includes considering R&D, design, engineering, and/or the manufacturing process.  In short, Qualiform's experts examine the entire project scope to determine the best approach at the best price, without sacrificing quality.
Experienced Work Force
---
Our people are a valued asset.  With a leadership team with 130 years of combined expertise in the rubber mold industry, Qualiform pledges to continue to invest in growing their employees' knowledge.  We are committed to maintaining our status as the quality leaders in our industry.
The best people also mean the highest standards in customer service.  Our team members are experts in all of the following: custom rubber compression molding, custom transfer molding, custom rubber injection molding, and rubber to metal bonding with the highest standards.
Customer Service
---
Reliable, courteous, and informed communication is the centerpiece of Qualiform Customer Service Support.   We provide every customer with detailed information at each step of the process for an excellent experience from start to finish.
AMERICAN MADE PRODUCTS
FROM AN AMERICAN OWNED COMPANY
Questions?

(330)-336-6777
---
Our technical staff is available to answer any questions call (330) 336-6777, or submit a question/inquiry through our Contact Form or Send Us a PDF.

Qualiform Rubber Molding is a Full-Service Custom Rubber Molder.
With more than 30+ years of industry experience, we can customize a solution for your rubber product needs.   Indeed, we've successfully serviced the transportation, medical, electrical, plumbing, industrial, appliance, and aerospace industries.  Specifically, Qualiform, Inc. focuses on making custom molded rubber products. At our Ohio facility, we offer compression molding, transfer molding, and rubber injection molding. Although we are privately owned, we are nationally recognized.  Most important, we are committed to pursuing the best resources and technology to meet your unique rubber product needs.
Qualiform Rubber Molding News
An upgrade to our compression molding services allows us to hold tighter tolerances on weight and increased capacity/throughput. This new Barwell Performer enables us to meet more customers' needs.
In addition, in an effort to cut our energy cost on lighting in our facility by 50%, we've installed a new lighting system in our facility.  It's another way to help keep customers' costs low, too!
Qualiform is pleased to announce we were chosen as a preferred supplier!  Companies choose us to outsource their molding operations gave us this honor. They selected Qualiform because we help them streamline processes and reduce costs.  Finally,  zero interruption on productivity means money saved.
With Qualiform's 24-hour, three-shift operation, customers can rest easy knowing that we can meet their production demands quickly.
Rubber Molding Applications
Industries We Serve
Rubber Molding Processes