Qualiform Rubber Molding is a full-service rubber molding company. As the number one rubber products manufacturer, we offer custom rubber molding services, rubber compression molding, rubber injection molding, rubber transfer molding, and rubber to metal bonding.
Qualiform is the top U.S. rubber parts manufacturer for producing large rubber parts, rubber to metal bonding and complex custom rubber products that require special compounds and/or present unique design and molding challenges. We are experts in problem-solving and all aspects of rubber molding and rubber to metal bonding.  Our experienced technical staff is available to consult on your part design and property requirements.
With more than 40 years experience, customers depend on our rubber parts manufacturing capabilities to meet the needs of the transportation, medical, electrical, plumbing, industrial, appliance and aerospace industries.
Our knowledgeable technical staff will assist you with product development and design. We work with you every step of the process to ensure the quality and materials meet your specifications. Contact a member of our technical staff at (330) 336-6777 or CLICK HERE to send us a drawing.
Large Press Capability
We can support your largest part requirements with the ability to run 42" x 42" and 48" x 56" molds on our transfer molding and compression molding equipment.
Large Shot Capability
Rubber Injection Molding
10lb – 15lb – 20lb shot size.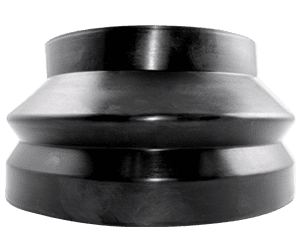 Why customers choose Qualiform
Competitive pricing on rubber parts

Short-runs with amazingly fast turnaround

Large rubber part molding up to  48" x 56"  and 20lb shot size

3-shift/24-hour production to meet your delivery requirements

Unparalleled experience to solve your part problems from design to price to delivery – try us!

We work with your tooling either from other molders or can purchase new tooling for you. You always own the tooling so we keep you as a customer through outstanding performance and customer service.

We aggressively monitor raw material costs to maintain the lowest possible pricing

Green initiatives with repurposed rubber to reduce costs and save from landfills

AMERICAN MADE PRODUCTS FROM AN AMERICAN OWNED COMPANY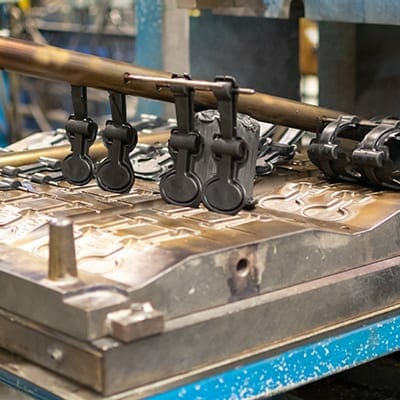 Choose The Custom Rubber Molding Experts
Contact a member of our technical staff at (330) 336-6777 or CLICK HERE to send us a drawing.
A Few of our Custom Molded Rubber Products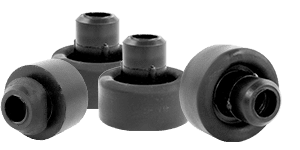 Custom Rubber Grommets
Let us assist you in the development of you next rubber grommet. We produce grommets utilizing all our processes; rubber injection molding, transfer and compression molding.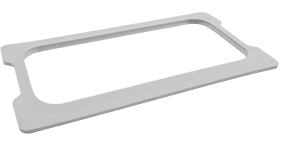 Rubber Gaskets and Seals
Qualiform is the source for custom molded rubber gaskets, rubber seals, and rubber washers. No matter what the application, we can manufacture the perfect seals.
Custom Colored Rubber Molding
Qualiform engineers have the capability to produce Colored Rubber with brilliant color quality and consistency at a competitive price.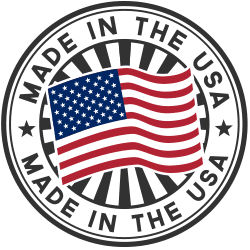 Types of Rubber Products we Manufacture
Rubber Molded Parts Manufacturers

Rubber Gasket Manufacturer

Rubber Grommet Manufacturer

Rubber to Metal Bonding Manufacturers

Rubber Component Manufacturers

Molded Rubber Dock Bumpers

High Density Custom Rubber Products

Small Rubber Products Manufacturers

Grommet Manufacturers USA

Anti Vibration Mounts Manufacturers
Custom Rubber Parts Manufacturer

Vulcanized Rubber Products

Rubber Handle Manufacturer

Rubber Plugs Manufacturer

Rubber Molded Products Manufacturers

Watertight Gasket Manufacturers

Rubber Molded Products Manufacturers
Industrial Rubber Molding

Rubber Grommet Manufacturers

Quick Turn Molded Rubber Parts

Large Molded Rubber Parts

Molded Rubber Boots for Cylinder
Metal Backed Rubber Products

Precision Rubber Products

Rubber To Metal Vibration Mounts

A Better Process than Induction Bonding of Rubber To Metal

Molded Rubber to Metal Bonding