Rubber
Compression

Molding

The first rubber molding process, rubber compression molding, is ideal for low to medium volume production of rubber products. Compression molding is a widely used economical production method for low volume production of medium to large parts.  It is the best rubber molding process for materials with a high cost and applications that demand extreme hardness.

Rubber compression molding can produce a diverse range of precision rubber molded components and the affordable production of large, intricate products. It is often used to produce environmental seal products such as rubber o-rings, seals and gaskets.
The Rubber Compression Molding Process
The rubber compression molding process uses a preformed piece of uncured rubber that is placed in an open mold cavity. The mold is preheated to an elevated temperature.  As the mold closes in the press, the material is compressed and flows to fill the rubber mold cavity.
The combination of elevated temperatures and high-pressure activates the vulcanization process and curing of the rubber compound. Once an optimal cure is reached, the part hardens and cools then the mold is opened and final part removed.  The next rubber preform is inserted into the mold and the cycle repeats.
The basic compression mold is usually a two-piece construction consisting of a top and bottom plate. Half of the part cavity is usually cut into each plate of the mold.  A trim area is created by grooves cut around each cavity which allows the excess rubber to flow out of the cavity. Compression molds are typically secured between heated press platens.  The molded parts require trimming to remove the groove overflow.  An additional bake cycle may be required for partially cured parts.
Materials
Qualiform molds both natural rubber and synthetic rubber which include:
Butyl
Colored Compounds
EPDM
Natural Rubber
Neoprene
Nitrile
SBR
Viton™
Fiber Molding
Advantages of Rubber Compression Molding
Rubber Compression Molding offers advantages over other methods by providing:
Tooling savings
Short setup time (saves on short production runs)
The capacity to process stiff, high durometer materials
Ideal for large parts that require a long cure time
Maximized cavity count
Ideal for low volume part requirements
Ability to process most elastomers and cure systems
Disadvantages of Compression Molding
Longer cycle times
Mid-range precision and consistency
Labor intensive
Applications of compression molding range from simple o-rings to complex large high durometer rubber products.
Our Molding Capabilities
Qualiform Custom Rubber Molding creates quality custom rubber compression molding, custom transfer molding, custom rubber injection molding and rubber to metal bonding with the highest standards in customer service.
Our technical staff is available to answer any questions call (330) 336-6777, or submit a question through our Contact Form or Send Us a PDF.
About Qualiform
Qualiform Rubber Molding is a full-service rubber products manufacturer with more than 30 years of experience.
Depend on our rubber product manufacturing capabilities to meet the needs of the transportation, medical, electrical, plumbing, industrial, appliance, and aerospace industries.
We are here to serve all of your rubber molding needs!
Why should you choose Qualiform?
– Trusted experience to solve your problems from design to price to delivery – try us!
– Short-runs with fast turnaround
– Competitive pricing on a variety of rubber parts
– We work with your tooling either from other molders or can purchase new tooling for you.       You always own the tooling so we keep you as a customer through outstanding performance and customer service.
– 3-shift/24-hour production for the quickest turnaround
– We aggressively monitor raw material costs to maintain the lowest possible pricing
– Green initiatives with repurposed rubber to reduce costs and save from landfills
– AMERICAN MADE PRODUCTS FROM AN AMERICAN OWNED COMPANY
Qualiform is the top U.S. rubber molder for custom rubber products that require special compounds and/or present unique design and molding challenges. We are experts when it comes to rubber molding services, compression molding, transfer molding, rubber to metal bonding and rubber injection molding.
Certified to ISO 9001, we are dedicated to producing high-quality custom rubber molded products and will take the necessary steps to understand and ensure your project needs are satisfied. Please contact Qualiform for assistance with your rubber product development. Qualiform is the leading supplier of rubber molding services, compression molding, transfer molding, rubber to metal bonding and rubber injection molding.
Our knowledgeable technical staff will assist you with product development and design. Qualiform's extensive rubber molding experience ensures we can meet your exact specifications. We work with you every step of the process to ensure the quality and materials meet your specifications. Contact a member of our technical staff at (330) 336-6777 or CLICK HERE to send us a information.
Competitive Pricing on Rubber Compression Molding Products
Competitive pricing is the result of evaluating every aspect required to produce the part. Whether through R&D, design, engineering or manufacturing, Qualiform analyzes the entire project scope to determine the best solution at the best price.
Experienced Work Force
The Qualiform leadership team offers 130 years of combined knowledge and experience in all disciplines of the rubber mold industry. Qualiform employees are a valued asset. Qualiform pledges a continued dedication to investing in the expertise of our employees so as to maintain a status of quality performance and leadership within the ever-growing rubber industry.
Qualiform Quality Assurance Program
Qualiform is an ISO 9001:2015 certified company, and is committed to endorsing an effective program that will be responsible for every aspect of our processes so as to comply with customer requirements. Qualiform will evaluate and document to assure satisfaction with every product and service we provide.
Customer Service
Qualiform is proud of their Customer Service Support. Our customer support provides authentic disclosure with every customer we serve. This includes follow-up with every customer, informing them of each step of the process, with detail-oriented, customer-conscious professionalism.
FAQs
 What's the process to get a quotation for a compression molding part?
Please provide a print or a sample of your part for review. In order to assist in tooling design, please include your estimated annual usage requirements. Please indicate the material, if the material is unspecified or unknown, please describe the environment in which it will be used.
Can Qualiform assist with the design of my custom rubber compression molding part?
Qualiform Rubber Molding can assist in the initial design phase all the way through your final approval of the part.
What if I don't know which polymer or durometer is best suited for my application?
Draw on Qualiform's 32+ years of experience custom rubber molding to assist you in determining the proper polymer for your application as well as your durometer requirements.
What is the lead-time when I place an order that requires a tool?
The average lead time for prototype tools is 2-4 weeks. For production compression or transfer tooling, the lead-time is 6-8 weeks. Average production rubber injection molding tooling is 8-10 weeks. Qualiform understands that there may be instances that will require improved tooling lead-time and we work with our tooling shop to meet customer requirements.
Is my tooling manufactured in the United States?
Qualiform purchases 100% of it's tooling in the United States which allows for faster lead-times and faster responses to customer design changes.
What is Qualiform's part lead-time?
From receipt of order, depending on order quantity, most parts can be shipped per your order requirements in 3-4 weeks.
Can Qualiform use existing tooling?
In most cases, tooling will fit into Qualiform's presses occasionally a minor tooling modification may be required.
Once I pay for the rubber molding tooling, who owns the tooling?
Tooling is custom to our customer's design and therefore the property of our customers once payment is received. 
For rubber to metal bonding applications can Qualiform source my metal components?
Qualiform works with several supply chains to source the required metal stamping or insert.
Can Qualiform match my custom color requirements?
Qualiform Rubber Molding can match any color requested. We work with our rubber suppliers to provide exact color matches.
Questions?
Our technical staff is available to answer any questions call (330) 336-6777, or submit a question/inquiry through our Contact Form or Send Us a PDF.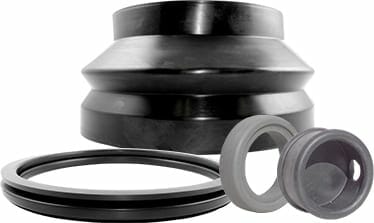 Our technical staff is ready to assist you with all your custom rubber compression molding needs.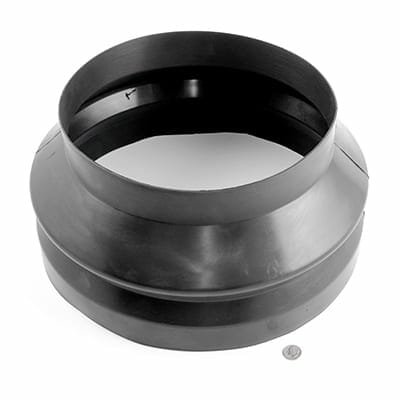 Viton rubber seal product.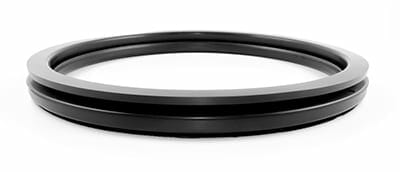 EPDM seal created for commercial washing machine use.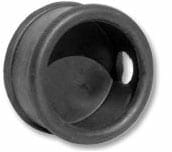 Compression molded air gauge guard.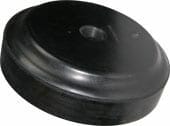 SBR natural rubber molded in a bumper for suspension application.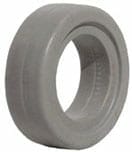 Rubber tires customized for hospital bed use.