ANTENNA WHIP ASSEMBLY
RUBBER TRANSFER Molding & RUBBER TO METAL BONDING
Antenna Whip Assembly
---
Industry: Automotive Rubber Products
Application: Prevent Antenna Damage
Process: Rubber Transfer Molding & Rubber to Metal Bonding
Material: Supplied in Neoprene and EPDM Features rubber to metal bonding
Using transfer molding and rubber to metal bonding, Qualiform created these antenna whip assemblies to keep construction equipment antennas from being damaged during use.
Custom Transfer Molding & Rubber to Metal Bonding
---
A client needed help with their antennas. To explain, antennas continually ripped off of their construction equipment.  In response to this problem, we developed a rubber to metal bonding solution. The solution gave the antennas durability while maintaining their flexibility to prevent damage
For this solution, first we used a special compound to creat these atenna whip assemblies.  This compound meet both flexability and fatigue requirements. Then we used tranfer molding to finish the product. Clearly, Qualiform's experience with rubber to metal bonding and creative problem-solving helped solve this problem.
Additonal problems can be solved with our many different custom rubber capabilities. Our team creates quality custom rubber compression molding, custom transfer molding, custom rubber injection molding and rubber to metal bonding.  The do so while meetingthe highest standards in customer service, too. Contact Qualiform Rubber Molding foryour custom rubber solutions today.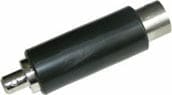 Our technical staff is ready to assist you with all your custom rubber molding needs.