THE CUSTOM Rubber Gaskets and Seals EXPERTS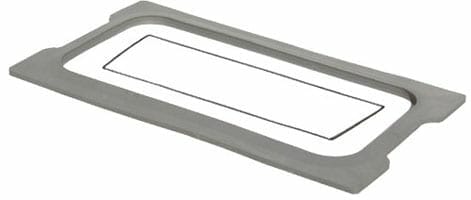 Rubber Gaskets and Seals
---
Rubber gaskets and seals are vital components used in a multitude of applications to prevent seepage of moisture or air. Qualiform is the source for custom rubber molding and manufactured rubber gaskets and rubber seals. No matter what application, Qualiform has the experience to solve a variety of sealing problems. We provide a comprehensive line of commercial and specification grade elastomers to fabricate a variety of rubber parts including:
Rubber Gaskets
Rubber Seals
Rubber Washers
Qualiform has the resources to assist you in developing new designs and selecting materials and processes. Qualiform's technical staff considers many factors in the design process and recommend the best method to meet our customers' quality and cost requirements. For large or small runs, our manufacturing capabilities mean a prompt response to your sealing needs.
There are two separate stages in the life of a gasket or seal:
Its primary fit and function.
Its ability to endure its environment.
Qualiform knowledgeable staff considers such factors in the design stage of rubber gaskets, so they will not be the weakest link among all components in a product. Environmental factors to consider in gasket or seal application are:
Flammability – UL specifications, heat resistance
Function – the motion acting upon it
Impermeability – exposure to gases
Organic materials – fungus resistance, odor, tastelessness
Temperature extremes – heat, cold
Weather – water, ozone, sunlight
Static Rubber Seals
---
Where there is little or no motion of assembly parts on the seal.
An initial compression or intervallic compression (open and close) characterizes this type of seal:
A liquid seal in a hose joint
A door seal on a home
With use of a Static Seal, compression pressure operates in a vertical direction relative to the face of an O-ring or face gasket and constricts two different surfaces to eliminate gaps.
Dynamic Rubber Seals
---
Where there is repetitive motion of assembly parts on the seal.
Repeated actions on the seal, recurrent or intermittent, characterizes this type of seal:
shock absorption device
piston ring seal
Dynamic Seals are more complex than static seals because of the varying stress levels. In addition to Static Seal considerations, Qualiform engineers assess abrasion resistance because it is affected by the companion surface finishes. Other considerations include: compression set, temperature changes, thermal cycling, distortion, recovery speed after compression, physical strength, tensile strength and tear resistance. Qualiform engineers asses all of these environmental forces and provide the most efficient and cost effective methods to meet our customers' quality and cost requirements.

Contact us
to discuss your project.
WHY CHOOSE QUALIFORM
FOR CUSTOM RUBBER MOLDING?
Qualiform Quality Assurance Program
---
As an ISO 9001:2008 certified company, Qualiform has implemented an effective quality program to oversee, evaluate, and document every aspect of our processes.  This program ensures we comply with the customer's requirements, so the customer is completely satisfied with the end product.
Competitive Prices
---
By analyzing and evaluating the entire project scope, Qualiform is able to offer the best solutions for every part at the best prices. We consider R&D, design, engineering, and manufacturing with all parts we produce.  As a result, we offer superior products at competitive prices.
Experienced Work Force
---
Quality performance comes from superior knowledge.  The Qualiform leadership team is the best in the rubber mold industry business with 130 years of combined knowledge and experience.  Because Qualiform recognizes its employees are its most valuable asset, we pledge continual investment in the expertise of our employees.
Qualiform Custom Rubber Molding creates quality custom rubber compression molding, custom transfer molding, custom rubber injection molding and rubber to metal bonding with the highest standards in customer service.
Customer Service
---
For reliable communication that is detail-focused and customer-conscious, you can count on Qualiform Customer Service Support.  Our courteous and professional customer support team follows-up with customers at each step of the process to keep our customers informed.
AMERICAN MADE PRODUCTS
FROM AN AMERICAN OWNED COMPANY
Questions?

(330)-336-6777
---
Our technical staff is available to answer any questions call (330) 336-6777, or submit a question/inquiry through our Contact Form or Send Us a PDF.

Qualiform Rubber Molding is a full-service molder.
Qualiform, Inc. has focused on the manufacturing of custom molded rubber products. As a privately owned, nationally recognized manufacturer offering compression molding, transfer molding and rubber injection molding, we are committed to pursuing the best technology and resources in the industry to meet your changing needs. With more than 30+ years of industry experience and success, we offer rubber molding services and products to meet the needs of the transportation, medical, electrical, plumbing, industrial, appliance and aerospace industries, worldwide.
Qualiform Rubber Molding News
Qualiform adds a new Barwell Preformer to upgrade our Compression Molding services. The new equipment allows us to hold tighter tolerances on weight and increased capacity/throughput.
Qualiform is installing a new lighting system to cut our energy cost on lighting by 50% in our facility.
Qualiform selected as preferred supplier to companies outsourcing their molding operations to reduce cost and streamline processes with zero interruption on productivity.
Qualiform's 24-hour three shift operation allows us to respond quickly to our customer's production demands.
Rubber Molding Applications
Industries We Serve
Rubber Molding Processes