The Custom Rubber
Gaskets and Seals

Experts
Rubber Gaskets and Seals
Rubber gaskets and seals prevent seepage of moisture or air in a multitude of applications. Qualiform is the source for custom rubber molding and manufactured rubber gaskets and rubber seals. No matter what application, Qualiform has the experience to solve a variety of sealing problems. We provide a comprehensive line of commercial and specification grade elastomers to fabricate a variety of rubber parts including
Rubber Gaskets
Rubber Seals
Rubber Washers
Qualiform's experienced team can assist you with your custom rubber gasket or seal project.  Our technical staff considers many factors in the design process, so they can recommend the best method to meet your quality and cost requirements.  Furthermore, they can develop a new design if needed.
There are two separate stages in the life of a gasket or seal:
The part's primary fit and function.
How well the part can endure its environment.
As a result, Qualiform's experts consider both factors in the design stage of rubber gaskets, so they will not be the weakest link in a product. Similarly, the consider environmental factors in gasket or seal application, such as
Flammability – UL specifications, heat resistance
Function – the motion acting upon it
Impermeability – exposure to gases
Organic materials needs – fungus resistance, odor, tastelessness
Temperature extremes – heat, cold
Weather exposure – water, ozone, sunlight
Whether you need large or small runs, our manufacturing capabilities mean a prompt response to your sealing needs.
Static Rubber Seals
Where there is little or no motion of assembly parts on the seal.
An initial compression or intervallic compression (open and close) characterizes this type of seal:
A liquid seal in a hose joint
A door seal on a home
With use of a Static Seal, compression pressure operates in a vertical direction relative to the face of an O-ring or face gasket and constricts two different surfaces to eliminate gaps.
Dynamic Rubber Seals
Where there is repetitive motion of assembly parts on the seal.
Repeated actions on the seal, recurrent or intermittent, characterizes this type of seal:
shock absorption device
piston ring seal
Dynamic Seals are more complex than static seals because of the varying stress levels. In addition to Static Seal considerations, Qualiform engineers assess abrasion resistance because it is affected by the companion surface finishes. Other considerations include compression set, temperature changes, thermal cycling, distortion, recovery speed after compression, physical strength, tensile strength, and tear resistance. Qualiform engineers asses all of these environmental forces and provide the most efficient and cost-effective methods to meet our customers' quality and cost requirements.
Why Qualiform Rubber Molding?

With 30+ years of experience, Qualiform Rubber Molding provides quality rubber products and excellent molding services to its' customers. We are able to meet the needs created by various industries including industrial, plumbing, aerospace, medical, and electrical. We've built a national reputation in the rubber molding business by manufacturing top of the line rubber products.

 Qualiform uses special compounds and unique design techniques to solve difficult molding challenges.  Our team efficiently finds the best solutions to guarantee customer satisfaction. We put our customers first, therefore, we know how valuable a fast turnaround is. The fastest possible turnaround is provided by an around the clock, 24-hour/3-shift workforce.

Qualiform is a certified ISO 9001 company. Through this quality assurance program, we are able to produce top quality custom rubber molded products. We evaluate your project requirements and ensure that each step of production meets your approval. We are dedicated to implementing an effective quality assurance program that oversees, evaluates and documents every aspect of our process. This allows us to certify that every product and service that offer is up to top-notch standards.

Qualiform is committed to providing competitive pricing for our customers. We determine pricing based on our evaluation of what is required to make the part.  By this analysis, our employees are able to provide our customers with the best solution at the most cost-effective price.

Here at Qualiform, the environment doesn't take a back seat. We maintain sustainability by using repurposed rubber as frequently as possible. Not only does this reduce our landfill waste input, but it even reduces our material costs.

Qualiform is a top American owned company in the rubber molding business. All of our tooling is sourced in the United States which allows faster-lead times and faster responses to any design changes.

Our talented team provides full-service manufacturing through our variety of products and services offered. This includes:


Products We Manufacture:  

Custom rubber parts 

Rubber to metal bonding products 

Complex rubber products 

Vibration control parts 

Vibration isolation parts 

Abrasion-resistant parts 

Rubber gaskets 

Rubber seals 

Rubber grommets 

Colored rubber products 

Rubber bumpers 

Rubber Grips 



Rubber Processes We Offer: 

Rubber injection molding  

Rubber transfer molding 

Rubber compression molding 

Rubber-to-metal bonding  

Custom rubber molding 

Rubber compound development  

Engineering and design support 

Assembly services 

Stocking programs 

Cryogenic deflashing  



Materials We Process:  

EPDM 

Nitrile 

Viton 

Neoprene 

Butyl 

SBR 

Natural rubber 

Colored compounds 

 

 Frequently Asked Questions 


What's the process to get a quote? 
First, please provide us with a print or a sample of the desired part for review.  To assist with tooling design, provide your estimated annual usage requirements along with the desired material.  If you don't know the material, just describe the environment in which it will be used and we can come up with a solution.
 
Can Qualiform assist with the design of my rubber gaskets and seals? 
 Qualiform Rubber Molding is able to assist with the entire process, from the initial design phase to the last approval step.  

What if I don't know which polymer or durometer is best suited for my application? 
Our team can decide what the proper polymer for your application is, as well as decide what   durometer requirements are best.

What is the lead-time when I place an order that requires a tool?  
Since our tooling is manufactured in the USA, we are able to produce quick lead times. The average lead-time for prototype tools is 2-4 weeks.  For compression or transfer molding, the average lead-time is 6-8 weeks.  For rubber injection molding, the average is 8-10 weeks.  We understand sometimes customers require a faster lead-time and we work with our tooling shop closely to fulfill customer time requirements.

Can Qualiform use existing tooling? 
Our presses can accommodate most tooling. In some instances, minor tooling modification may be made.

Who's property is the tooling?

Tooling is customized via customer design requests. Therefore, once we receive payment, tooling is owned by the customer. 
 
What is  Qualiform's part lead-time? 

From the receipt of an order, most parts can be shipped out within 3-4 weeks. It can also depend on the quantity of the order.
 
For rubber-to-metal bonding applications, can Qualiform source my metal components?  

Qualiform works with multiple supply chains to source the metal stamping and inserts requested.

Can Qualiform match my custom color requirements? 

We work with our rubber suppliers to provide precise color matches for your products.

Other Questions?  

 Qualiform's customer service is here to offer trustworthy and conscientious communication. Our technical staff will follow up with you all on the details of your order and answer any questions that you may have.

Call us at (330) 336-6777 or submit an inquiry through our contact form.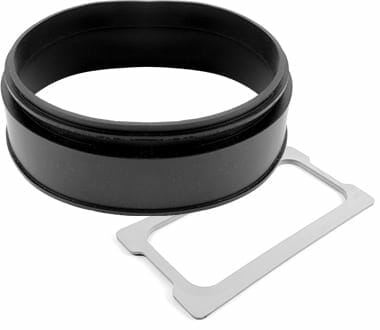 Our technical staff is ready to assist you with all your custom rubber gasket and seal molding needs.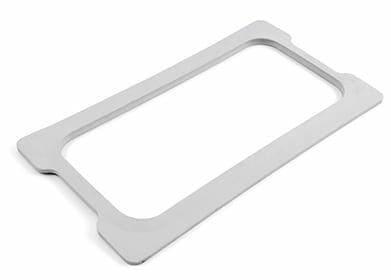 Gray seal created by transfer molding process.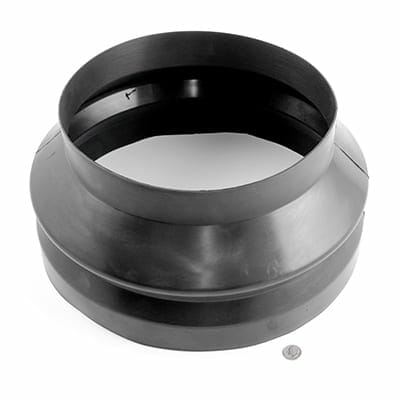 Compression molded viton rubber seal.