Thermoplastic Elastomers (TPE) Products
Properties / Thermoplastic Elastomer Applications
What are Thermoplastic Elastomers?
Thermoplastic elastomers (TPEs) are a form of thermoplastic polymers. They are also a class of copolymers, or a physical mix of rubber and plastic polymers, that consist of both thermoplastic and elastomeric properties. TPEs are also referred to as thermoplastic rubber, as it exhibits some of the performance properties of rubber. However, TPEs are processed similarly to plastic and are recyclable.
The elastomeric component of TPEs make them soft and flexible, so they can be stretched to their twice their initial length. They will return to their original length upon release. TPEs are soft to the touch, so they are ideal for a variety of markets and consumer goods. Furthermore, soft thermoplastic elastomers are easy to mold and extrude onto other TPEs. As a result, they are ideal for soft grips on products as well as sealing rings and bottle cap liners.
There are also six generic classes of commercial TPEs:
Styrenic block copolymers, TPS (TPE-s)
Polyolefinelastomers, TPO (TPE-o)
Vulcanizates, TPV (TPE-v or TPV)
Polyurethanes, TPU (TPU)
Copolyester, TPC (TPE-E)
Polyamides, TPA (TPE-A)
Unclassified thermoplastic elastomers, TPZ
These other types of TPEs can be utilized in the manufacturing of wire and cable insulation, HVACs, automotive parts, and home appliances.
Read below for advantages and properties of Thermoplastic Elastomers:
Advantages of Thermoplastic Elastomers
Simplified processing
Lower part costs
TPEs are colorable
Recyclable scraps and parts
Long-lasting
Exceptional flexural fatigue resistance
Good electrical properties
Tear & Abrasion Resistance
High impact strength
Chemical Resistance
Weathering Resistance
Properties of Thermoplastic Elastomers (TPE)
Chemical Definition: Variable
Abbreviations: TPE
Thermoplastic Processing
Transfer Molding
Injection Molding
Compression Molding
Physical Properties
Tensile Strength: 1740 – 4210 PSI
Tensile Elongation: 330% – 560%
Durometer: 30 to 56
Outstanding UV and ozone resistance
Dense rubber
Slip resistance
Excellent weather resistance
Shock absorption
Flexibility
Soft texture
Benefit of being co-extruded
Applications of Thermoplastic Elastomers
Automotive
Rack and pinion boots
Air ducts
Cable covers
Bushings
Grommets
Body seals for windows and doors
Dust covers
Body plugs (fire wall grommets)
Convoluted boots
Appliance
Pumps
Gaskets
Boots
Hose connectors
Plugs
Baffles
Building and Construction
Gaskets
Weather stripping
Bulb seals
Expansion joints
Set blocks
Business Machines
Rollers for printers
Vibration isolators
Feet & bumpers
Electrical
Molded connectors
Cabling applications
Fluid Delivery
Plumbing seals
Filter and pump seals
Closure seals
Food Contact
Hardware
Caster wheels
Tool grips
Rollers
Medical
Closures
Gaskets
Stoppers
Plunger tips
Sporting Goods
Grips
Scuba equipment
Handles
Qualiform ISO Certified Thermoplastic Elastomers Manufacturer
Qualiform is an ISO-certified Thermoplastic elastomer manufacturer offering a wide variety of precision custom rubber molding services. We can mold standard OEM replacement stars as well as custom finger lengths and configurations. If you are looking to develop a recycling star for your TPE application or media processing, you can contact our technical staff for consultation on design and property requirements.
We are also industry leaders in processing, development and testing capabilities. Qualiform offers high-precision rubber manufacturing services including rubber molding, rubber compression molding, rubber injection molding, rubber transfer molding, and rubber to metal bonding. Furthermore, we offer unmatched problem-solving capabilities in all areas of rubber molding and rubber-to-metal bonding. Qualiform can create the custom rubber solutions you need for virtually any application.
Qualiform offers 40+ years of experience in custom rubber components manufacturing, so customers can depend on us to create the high-quality TPE products they need. Contact the Qualiform technical staff at (330) 336-6777 to learn more about how we can help you.
Qualiform Proprietary Blend
In addition to our Thermoplastic elastomers, Qualiform offers proprietary blends with reinforcing fibers. We blend these reinforcing fibers directly into the TPEs. As a result, your thermoplastic elastomers will have increased resistance to impacts and abrasions as well as improved durometer, toughness and performance. Qualiform also offers this proprietary blend for other available materials:
Butyl Rubber
EPDM Rubber
Natural Rubber
Neoprene Rubber
Nitrile Rubber
Synthetic Rubber
Thermoplastic Elastomers (TPE)
Viton Rubber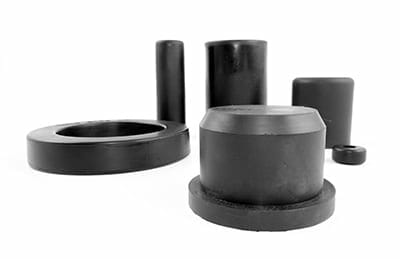 Interested in Rigid & Flexible PVC or Qualiform's other rubber materials? Contact Qualiform today to receive expert material recommendations.