Rubber to Metal Bonding 
Rubber to Metal Bonding | The Process
Commonly Asked Questions
Qualiform provides top-level customer service when it comes to metal to rubber bonding.  We offer dependable and considerate communication by following-up with our customers and explaining specific details of each manufacturing process for varying products.  Some FAQs can be found below.  For additional questions, feel free to contact our technical staff! 
How do I receive a quotation?
Please provide us with a sample or print of your part to be reviewed. To assist us in the tooling design, please include the estimate of your annual usage requirements. Also include the type of material, unless it is unknown or unspecified. In that situation, please describe the environment in which the tooling will be utilized.
Can Qualiform assist with the design of my custom rubber part?
If you desire, Qualiform will be there to assist you in your design process from the initial phase to the final step of approving your part.
What if I don't know which polymer or durometer is best suited for my application?
Qualiform is capable of offering expert recommendations for polymers and an indication of your durometer requirements.
What is the lead-time when I place an order that requires a tool?
The average lead times vary by type of tooling.
Prototype Tools: 2-4 Week Lead Time
Compression or Transfer Molding: 6-8 Week Lead Time
Rubber Injection Molding Tooling: 8-10 Week Lead Time
However, if you need an expedited tooling lead time, we are able to work with our tooling shop to meet your time requirements.
Is my tooling produced in the United States?
We purchase all of our tooling within the United States. This allows us to respond quickly to customer changes and work with faster lead-times.
What is Qualiform's part lead-time?
A majority of our parts can be shipped out within 3-4 weeks from the receipt of the order, depending on the number of products.
Can Qualiform use existing tooling?
Tooling will fit into our presses in most cases. However, sometimes minor tooling modifications may be necessary.
Once I pay for the rubber molding tooling, who owns the tooling?
After we receive payment for the product, the tooling is the customer's property. Tooling is custom to each customer's specific design requests.
For rubber to metal bonding applications, can Qualiform source my metal components?
We work with a variety of supply chains to source required metal stamping or inserts.
Can Qualiform match my custom color requirements?
We work closely with our rubber supplies to obtain color matches that fit our customers' specific requests.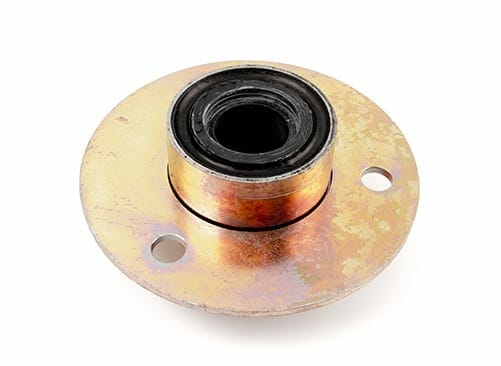 Our technical staff is ready to assist you with all your custom rubber molding needs.
Products Using Rubber Bonded to Metal
Anti Vibration Rubber Metal Mounts

Approved In the USA Rubber to Metal

Automotive Rubber to Metal

Bicycle Metal Rubber Partsbber Parts

Bonding EPDM Rubber to Metal

Bonding Neopreme Rubber to Metal

Bonding Neoprene to Metal

Bonding of Rubber to Metal

Bonding Rubber to Metal Double Sided Tape

Bonding Rubber to Painted Metal

Cast Iron Metal Wheels with Rubber

Cold Bonding Rubber to Metal

Cold Vulcanizing Rubber to Metal

Companies That Vulcanize Rubber to Metal

Companies That Manufacture Metal Products In USA

Custom Rubber Metal Bonding

Custom Rubber Metal Carrier Gaskets

Defense Supply Rubber to Metal Bonded

Dual Number with Metal and Rubber

Elastomer Rubber to Metal Bonding

EPDM Rubber to Metal Bonding

Expanded Metal Rubber Coated

Expansion Joints Rubber Metal

Fasteners with Rubber to Metal

Flexible Metal Rubber Molding

Gasket Sealing Washers Rubber Metal

Hard Rubber Metal Isolation Pads

High Temperature Rubber Metal

Inch Metal Rubber Die Cuts

Increasing Adhesion of Rubber to Metal

Induction Bonding of Rubber to Metal

Internal Fill Rubber Metal Supplier

Laminated Rubber to Metal to Line Inside

Large Rubber Metal Grommets

Large Size Metal Rubber Lamps
Laser Metal Suction Rubber Seals

Metal and Rubber Bushings

Metal and Rubber Manufactering Companies

Metal Cased Rubber Stopper Pad

Metal Detectable Rubber Suppliers

Metal Grommet Manufacturers

Metal Hooks with Rubber Covering

Metal Plate Covered with Rubber

Metal Plate with Vulcanized RubberPad

Metal Rubber Bonded Bushing

Metal Rubber Drain Plug Gaskets

Metal Rubber Manufacturing

Metal Rubber U Bolt Mount

Metal Rubbernuts with Rubber Fittings

Metal Strip with Holes In Rubber

Metal to Rubber Bonded Bushings

Metal to Rubber Bonding In Ohio

Metal Track Rubber Banding

Methods of Applying Rubber to Metal

Military Rubberized Metal Retaining Washers

Molded Rubber to Metal Bonding

Molded Rubber to Metal Bushing
Natural Rubber Rubber to Metal

Neoprene Rubber Gasket with Metal

Non Metal Used In Vulcanisation of Rubber

Press In Rubber Metal Bushings

Pressed On Rubber Metal Wheel

Quick Connector Metal to Rubber

Reactive Bonding of Natural Rubber to Metal By A Nitrile

Refurbishing Rubberized Metal Seating

Replace A Rubber Piece On Metal Handle

Rubber to Metal Bonded Companies In USA with 100 Million Revenues

Rubber Block Pads with Metal Backing

Rubber Bonding to Metal Parts

Rubber Casing to Metal Casings

Rubber Coated Metal Gasket Manufacturers

Rubber Coated Metal Handle

Rubber Covered Metal Grate

Rubber Covered Rollers Rubber Bonded to Metal

Rubber Dipping For Metal Handles

Rubber Gripper For Small Metal Rod

Rubber Insulated Metal Clamps

Rubber Lined Metal Clamps

Rubber Metal and Infrastructure

Rubber Metal Anti Vibration Mounts

Rubber Metal Bearing Pad Vibration Isolation

Rubber Metal Bonded Buffer

Rubber Metal Bushings Bolt Hole mm Wide
Rubber Metal Friction Wet

Rubber Metal Impact Buffer Rails

Rubber Metal Reinforced Commercial Grade

Rubber Molding Companies offer Rubber to Metal Bonding

Rubber Molding to Metal Companies In USA

Rubber Molding to Metal Part

Rubber Parts Bonded to Metal

Rubber Sleeve In Metal Pipe

Rubber to Metal Adhesion Test

Rubber to Metal Bonded Bushes

Rubber to Metal Bonded Parts

Rubber to Metal Bonded Parts Manufacturers

Rubber to Metal Bonded Products

Rubber to Metal Bonded Products to Customer Specification Manufacturers

Rubber to Metal Bondingon Manufacturers

Rubber to Metal Bonding Agent

Rubber to Metal Bonding Companies

Rubber to Metal Bonding Companies In Ohio

Rubber to Metal Bonding In Ohio

Rubber to Metal Bonding In Vulcanization

Rubber to Metal Bonding Manufacturers

Rubber to Metal Bonding Plate

Rubber to Metal Bonding Rod Ends

Rubber to Metal Bonding Seals

Rubber to Metal Bonding Services

Rubber to Metal Bonding Strength

Rubber to Metal Bonding Testing
Rubber to Metal Company In Ohio

Rubber to Metal Fasteners

Rubber to Metal For Downhole Tools

Rubber to Metal Molding Process

Rubber to Metal Vibration Mounts

Rubber to Metal Vulcanization

Rubber to Metal Vulcanization Bonding

Rubber Bonded to Metal Large Moldings

Rubber to Metal Vulcanized

Rubber to Metal Vulcanizing

Rubber Vulcanizing Compound Rubber to Metal

Rubberize Coating of Metal Parts

Rubberized Metal Drawstring Stopper

Rubberized Metal Protection

Rubberized Sealent For Metal

Secure Edges In Rubber to Metal Adhesion

Small Production Run Rubber Metal Parts

Solutions Rubber to Metal

Square Rubber Metal Suspensional Backing

Structural Metal Rubber Protector

Urathane Vs Butyl For Rubber to Metal

USA Manufacturer Metal Detectable Rubber

Vucanized Rubber to Metal

Vulcanization Rubber to Metal

Vulcanization Rubber to Metal Ohio

Vulcanize Ribber to Metal

Vulcanize Rubber to Metal

Vulcanize Rubber to Metal Regulator Part

Vulcanized Rubber Metal Assembly

Vulcanized Rubber to Metal

Vulcanized Rubber to Metal Companies

Vulcanized Rubber to Metal Parts

Vulcanized Rubber to Metal Sealing

Vulcanizing Rubber to Metal

Vulcanizing Rubber to Metal Companies

Vulcanizing Rubber to Metal Mexico

Waterproof Rubber to Metal

Who Rubber Coats Metal Parts